I'm still on a high from the combination of a dawn surf and moments later seeing the rockets fly and land! I hope you were thrilled too.
_____
Outstanding!
OK… who – like me – was out loud counting down with the Falcon Heavy rocket liftoff? …and was your mouth catching flies* as the 2 Falcons landed bang-on the landing pads? Wasn't it a spectacular?!
The new frontiers in space are certainly a priority for humanity now.
There are so many great videos to watch to relive the moment. Here's a playlist, wonderful photos and this is Elon sharing his amazement at the post-lift-off press conference.
*Australian slang = awe
Pre-Flight: The Falcon Heavy Intention
 
Cryptoassets: The Innovative Investor's Guide to Bitcoin and Beyond.
Great new digital assets insights by Chris Burniske, Jack Tatar. This book clearly explains uses, future potential and provides useful distinctions between currencies, tokens and assets.If you're new to blockchain, bitcoin, ethers, follow the first two mentions (bulletpoints) here then get into this book.
Great online presence
The fun of Craig Nelson's LinkedIn summary ~
Matt's LinkedIn achievement-orientated words: "Since '96 I have…"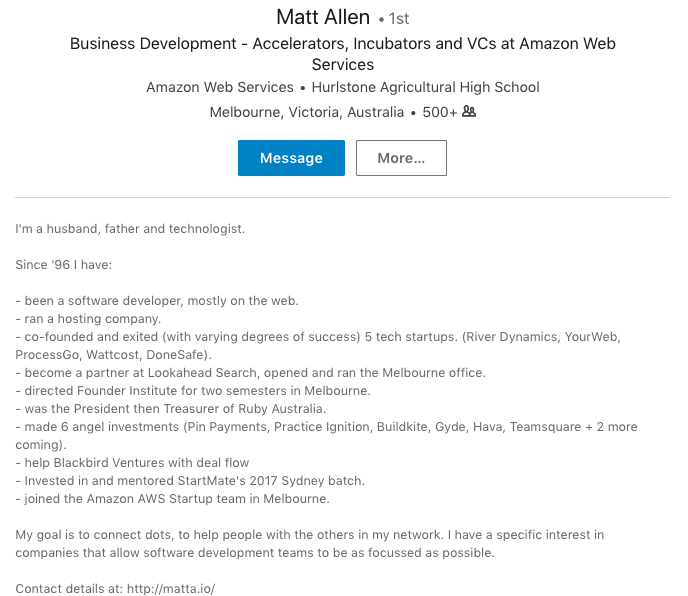 Nicholas' succinct and powerful words. Hollywood Movies!
I'm using my Jaybird earphones again after trying Apple's. Apple AirPods are stylish and light. For me they too easily flicked out and onto the ground. I think it's a long hair thing. I also had to think to take them out of my ear and into the charging pod so too often in phone calls I'd hear distracting low battery beeps. The Jaybirds hang around my neck and the battery lasts and lasts. Fred Wilson loves his AirPods. I get it. It's good to try out things and find what works well.
Enjoy your day / evening!
~ Sam