Open Up To New Tech.
In many facets of life people are fearful of and threatened by the new. This is often obvious in tech.
If you arrive at a new technology do your best to see it proactively as something to uncover, discover its usefulness, learn the risks too, use positive languaging to see its usefulness take off. When you see the media and others discounting or fearmongering a technology, dig deeper and find your own perspective and reasoning. Self-driving cars, blockchains and digital tokens/currency are a great example.
Would we already have safer driving conditions if more senior government and business leaders, the media and others proactively talked about and influenced the use of the technology? I imagine so, especially when taking into account the risks from the prevalence of phone use while driving. We've heard many times that the data shows self-driving cars are safer than human drivers yet the media focuses heavily on cars being hacked. The implications of being hacked are concerning though the conversation can be more constructive and uplifting.
From the new developments around you, what are the opportunities for you as an individual?
Use this calm WIRED article as inspiration. (Thanks Claire.)
Bento box competitiveness.
I had a sensational time recently learning how to make osaka-style okinomiyaki at a dinner party. Flipping them was good fun! I also learnt about the competitiveness around kids bento boxes at some schools in Japan. HAVE A LOOK AT THESE…. (I'm so impressed.)
Innovation.
As a new surfer I was rapt to hear about Kelly Slater's wave pool. He and his teams have spent years innovating to create perfect, tailored waves and the results are thrilling – even if you're not a surfer.
In September the world surfing league are holding a competition there which recognises that artificial waves offer a consistent wave for each competitor to show their prowess and personal style.
Enjoy the fun of these videos:
The intentions and when it all started working.
Drone view showing the technology. How's the train on the side!?
The Art of Learning.
"The Art of Learning: An Inner Journey to Optimal Performance" by master Josh Waitzkin is a peaceful, kind offering of clever learning and high performance tools, including insightful stories from Josh's life in uncovering top human performance. Towards the end the steps in creating a calming trigger for high stress situations is fascinating. Enjoy this one. [I know you will Pete Spence!]
Favourite reads & listens
A great talk that I'll be watching again on creating an integrous life – even just the last few mins. Thanks KP!
1. Sleep 2. Water 3. Food. Simplez.
This quick "five second" tool for getting stuff done and helping you out of procrastination / a lack of action on important things is great:When you have an instinct to do something or have a great idea, immediately countdown 5-4-3-2-1 while taking action. Try it out![Wend – your clients may enjoy this one.]
Great online presence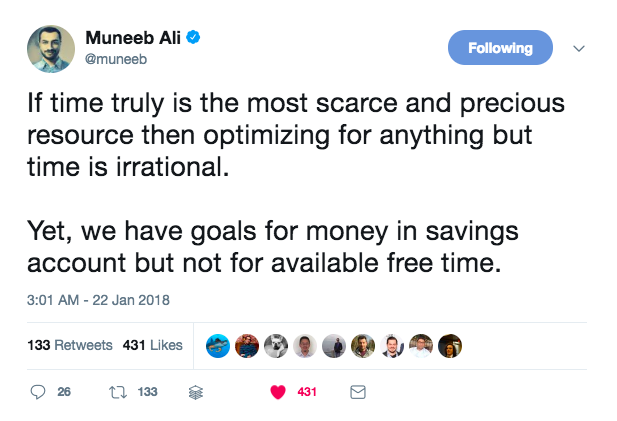 After my last email highlighting unroll.me to bulk-unsubscribe from newsletters a few people unsubscribed from this one. It's fun to see people taking action. How'd your unsubscribing go?
Look out for the Falcon Heavy (and accoutrements) launch. It's scheduled for 6th Feb.
Happy end of January!
~ Sam